How to Fix Sagging Breasts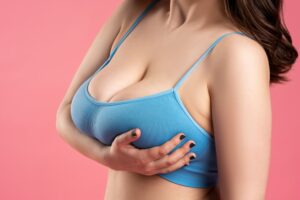 Sagging breasts are a common concern for patients of Dr Vlad Milovic. They come to our Melbourne office feeling their breasts have lost firmness, often as a result of weight fluctuations, pregnancy/hormonal issues, or even the effects of aging. Also known as "ptosis," sagging breasts can be a source of insecurity and frustration; fortunately, a few procedures exist to firm the breasts. While breast lift surgery is generally considered first to rejuvenate sagging breasts, Dr Milovic can combine a breast lift with another treatment to fully achieve the breasts you desire, from size and shape to firmness.
A breast lift (or "mastopexy") is typically performed by removing excess skin and repositioning the breast tissue and nipple, thus raising the breasts higher on the chest. Incisions are made either around the areola, under the inframammary fold (the crease under the breast), or a combination of both locations. Usually performed under general anaesthesia, mastopexy is a statistically safe and successful procedure.
For women with overly large breasts that negatively affect their self-esteem (or even their ability to live comfortably), breast reduction can be a wonderful option. While this surgery is not designed to lift the breasts, it tends to provide somewhat of a "lifting" effect. If you are interested in reducing the size of your breasts while also enhancing them to look more youthful, a breast reduction in combination with mastopexy may be for you.
Patients who choose to undergo breast lift may also be interested in breast augmentation, although it should be noted that a breast augmentation alone cannot fix ptosis. A breast augmentation utilizes implants to add volume, increase size, and/or fix the symmetry of the breasts. Dr Milovic is happy to discuss combining the two surgeries to achieve your desired goals.
Dr Milovic takes pride in his ability to firm sagging breasts through a number of techniques. He personalises every treatment plan to meet your unique needs. We invite you to schedule a consultation with Dr Milovic.