A Mummy Makeover patient shares her result!
Background
This 35 year old mum, let's call her "Mummy A", presented at Dr Milovic's office with concerns about her deflated breasts and loose tummy muscles after two pregnancies.  Mummy "A" wasn't planning on having any further children, so she was considering a mummy makeover procedure.  Mummy "A" was also going to the gym on a regular basis, but could not do much more with her tummy… and gym work wasn't going to replace her lost breast volume either!
Procedure performed
The Mummy Makeover (also known as the "Mommy Makeover") is a combination of cosmetic or plastic surgery procedures, usually performed together, with the most common being breast augmentation and/or breast lift with a tummy tuck or abdominoplasty procedure.
Mummy "A" had a breast augmentation (with round, silicone implants) to correct her deflated breasts and restore volume, performed by Dr Milovic, who also performed a mini-tummy tuck which tightened up her abdominal muscles and removed excess skin.  These procedures were done at the same time by Dr Milovic, resulting in only one hospital admission and anaesthetic.
To help with immediate post operative recovery, Dr Milovic's Anaesthetist administered transabdominal blocks (TABs).   This rapid recovery technique helps mums, like Mummy "A", to get up and move around within the first 24 hours after surgery as well as eliminate the need for any physiotherapy, and she also had less dependence on the PCA pump and other painkillers.  Hospital stays are usually reduced to 3 nights, which means mums are back at home quicker (but must not do much else!) and save on extended hospital stay costs.
And…here's Mummy "A"'s result!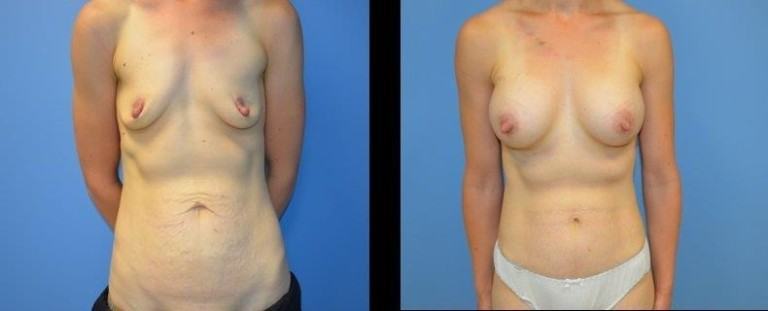 Want to know more about the Mummy Makeover procedure?  Dr Milovic has offices,  and operates,  in both Sydney and Canberra.   His post operative care is comprehensive and can be undertaken in either Sydney or Canberra, wherever is most convenient for you.  Call our office to find out more : 02 9389 9065 (Sydney) or 02 6260 4882  (Canberra).
You can also complete our contact form below and ask Dr Milovic more about this procedure.
PLEASE SHARE this post so that other mums can see what a difference a Mummy Makeover by Dr Milovic can make in their lives.