How Can I Get Rid of Dark Undereye Circles?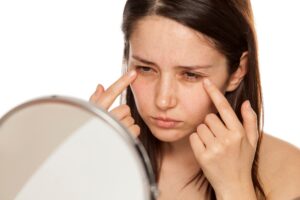 As we age, many of us experience a loss of collagen and elastin, two components which help our skin appear younger and softer. The loss of collagen and elastin can cause the tissue and muscles under our eyes to droop, unwanted pockets of fat to develop, and – quite often – dark circles to appear under our eyes. These circles, or "bags", can contribute to a permanently sleepy or worn-out appearance that many associate with age. More frustrating yet, they can be difficult to diminish, rarely responding to over-the-counter solutions or creams.
Dr Vlad Milovic offers advanced treatments for these stubborn undereye circles. Like every procedure offered at our Melbourne practice, he customises every treatment to address the unique needs of each patient, and carefully chooses the procedure based on the severity of concerns and symptoms.
For instance, patients with mild to moderate undereye bags can benefit from the use of dermal fillers. We carry several fillers whose primary ingredient is hyaluronic acid, a substance which occurs naturally in the human body and aids in hydrating the skin. Fillers can be used to reduce wrinkles and creases in the face, plump up thinning lips, and replenish volume which has been lost under the eyes, leading to sunken skin and dark circles. As such, they are often considered the most effective non-surgical treatment for undereye bags.
Alternatively, patients with more severe or stubborn circles under their eyes may be best suited for eyelid surgery. Known in the medical world as "blepharoplasty", this procedure – particularly lower eyelid surgery – can reposition fat pads and smooth the undereye area to reduce shadows which have cast a dark look over the face. Dr Milovic has years of experience performing this surgery and is well-versed in a number of techniques. In certain cases, he may recommend a combination of blepharoplasty and dermal fillers to achieve optimal enhancement of this area of your face.
For more information or to schedule a consultation with Dr Milovic, please contact our practice today.