Can I Get a Flat Stomach After Having Children?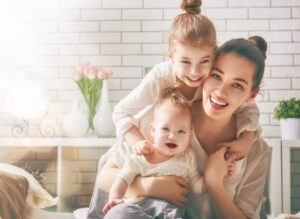 Motherhood can bring about plenty of wonderful changes – but some of the physical changes that linger after delivery may not be as welcome. For instance, pregnancy and childbirth can cause abdominal muscles to stretch and sag, and large buildups of belly fat are also common. These changes in the abdomen can be quite stubborn, sometimes failing to respond even to strict diets and intensive exercise.
Thankfully, Dr Vlad Milovic offers a comprehensive treatment for mothers with such aesthetic concerns: the mummy makeover. This procedure combines at least two treatments (often breast or body enhancement options) of a patient's choice, each performed with the intention of restoring the pre-pregnancy physique. Depending on the treatments you choose to incorporate, your mummy makeover can slim the waistline, tighten the skin, reduce breast sag, and dramatically improve self-image.
Because so many mothers seek to contour their abdomens after giving birth, tummy tuck surgery is often included in mummy makeovers. Known medically as "abdominoplasty", this surgery involves trimming and redraping excess skin, repairing and tightening lax abdominal muscles, and reducing the appearance of stretch marks and other blemishes if they appear in the area where skin will be excised. Like the mummy makeover, tummy tuck surgery is highly customisable, and Dr Milovic can utilize a number of different techniques to address your area of concern (e.g., a full tummy tuck, or in some cases a mini tummy tuck may be recommended). In addition, Dr Milovic often incorporates liposuction into tummy tuck surgery to remove excess fat buildup in the midsection. These procedures can ultimately give the abdomen a firmer and "flatter" look.
Dr Milovic and the rest of our team enjoy helping mums achieve their dream figure. To schedule a consultation with Dr Milovic, you are welcome to contact our practice today.