How to Get Rid of a Double Chin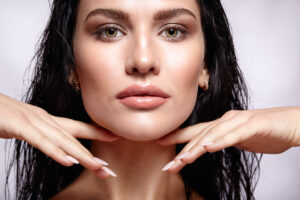 There are many reasons a double chin may develop, including ageing, weight fluctuation, and genetics. For men and women who struggle with the appearance of a double chin, our specialist plastic surgeon in Melbourne—Dr Vlad Milovic—frequently recommends customised liposuction treatment of the chin and/or neck area. Liposuction techniques allow him to remove and sculpt stubborn fat deposits that may be causing an unwanted isolated bulge or excess fullness below the chin. The benefits of chin and neck liposuction can include:
Improvement in overall appearance of your profile
Smoother, leaner contours below the chin
Enhanced jawline definition
A more youthful and vibrant appearance
Tiny incisions that result in minimal, if any, visible scarring
To achieve optimal results with chin and neck liposuction, individuals seeking treatment should have good skin elasticity, which allows the skin to retract once the excess fat has been removed. Individuals who present loose, excess skin along with an overabundance of fat may be encouraged to consider a neck lift along with liposuction. A neck lift involves the removal of excess skin, tightening of the underlying neck musculature, smoothing and lifting of the neck skin, and removal of excess fat for comprehensive, long-lasting improvement. If jowls have formed along the jawline, you may be well suited for a combined facelift and neck lift. As an experienced and highly trained specialist plastic surgeon, Dr Milovic relies upon his advanced skill in liposuction and facial procedures, along with his keen sense of artistry, to create results that look balanced and natural-looking.
If you are wondering about the best approach for improving the appearance of your chin, jawline, and/or neck, it is important to schedule a virtual or in-person consultation with Dr Milovic. During this appointment, Dr Milovic can assess your needs, learn about your goals, and develop a treatment plan that is custom-crafted to deliver a stellar outcome.