Melbourne Specialist Plastic Surgeon Details His Surgical Aftercare Program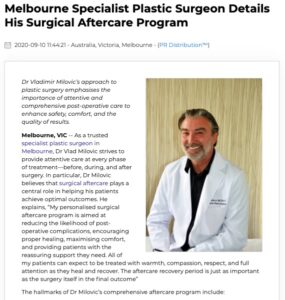 Dr Vladimir Milovic's approach to plastic surgery emphasises the importance of attentive and comprehensive post-operative care to enhance safety, comfort, and the quality of results.
Melbourne, VIC — As a trusted specialist plastic surgeon in Melbourne, Dr Vlad Milovic strives to provide attentive care at every phase of treatment—before, during, and after surgery. In particular, Dr Milovic believes that surgical aftercare plays a central role in helping his patients achieve optimal outcomes. He explains, "My personalised surgical aftercare program is aimed at reducing the likelihood of post-operative complications, encouraging proper healing, maximising comfort, and providing patients with the reassuring support they need. All of my patients can expect to be treated with warmth, compassion, respect, and full attention as they heal and recover. The aftercare recovery period is just as important as the surgery itself in the final outcome"
The hallmarks of Dr Milovic's comprehensive aftercare program include:
Thorough education about the recovery process prior to the procedure, during staged pre-surgery consultations. This helps to set patients' expectations and sufficiently prepare them for the journey ahead. Patients also receive instructions that cover every detail of the post-operative at-home care process, from medication needs to wound care.
Open access to Dr Milovic and his team. Patients' questions and concerns are always welcome. Dr Milovic provides his after hours number to patients so they can reach him directly. Patients typically contact him if they have urgent post-operative issues in the immediate recovery period that arise outside of usual business hours. This is an invaluable part of our aftercare program, giving our patients peace of mind and around the clock care if they need it.
Post-operative follow-up appointments with Dr Milovic. All appointments after surgery are conducted by Dr Milovic himself, unless prior arrangements are made with you. Dr Milovic follows each patient's progress carefully to keep a close watch on the healing process and the developing surgical outcome. During these appointments he is also focused on early detection of any complications so that he can provide swift, effective treatment.
Urgent appointments when necessary. Patients who require immediate medical attention or have an urgent in-person concern can expect an appointment with Dr Milovic as soon as possible.
Support from the team and former patients. Recovery can be a challenging process and patients can benefit from multiple sources of additional support within the office and beyond. Recovering patients are encouraged to join our private Facebook support group, which was started by Dr Milovic's former patients.
In addition to his aftercare program, Dr Milovic offers patients in-depth consultations, meticulous treatment planning, and advanced surgical skills. In his more than 23 years of experience as a specialist plastic surgeon both internationally and in Australia, Dr Milovic has had the opportunity to refine his craft and develop a consistent patient-centered process that supports his ultimate goal—helping patients look and feel their very best. "Whether I am performing complex facial surgery, such as a rhinoplasty, mummy makeover surgery, breast augmentation, or another cosmetic procedure, I want to make sure that my patients have everything they need to succeed on their journey toward enhanced self-confidence."
About Dr Vlad Milovic
Dr Vlad Milovic's practice in Melbourne focuses on providing patients with a full range of plastic, cosmetic, and reconstructive procedures performed with surgical excellence. Dr Milovic and his team are dedicated to thorough patient education, customised treatment, and world-class care to deliver outstanding results and enhance safety. Dr Milovic is a Fellow of the Royal Australasian Society of Plastic Surgeons (FRACS) in the specialty of Plastic Surgery. This training includes 12 years of medical and surgical education, with at least five years of specialist postgraduate training—and Dr Milovic has had the opportunity to learn from some of the foremost surgeons in the world. Dr Milovic also completed not a 1-year, but a 4-year aesthetic surgery fellowship. As a highly regarded plastic surgeon in the international medical community, Dr Milovic is an active member of the Australian Society of Plastic Surgeons (ASPS-AU), the Australian Society of Aesthetic Plastic Surgeons (ASAPS – AU), the American Society of Plastic Surgeons (ASPS), the International Confederation for Plastic, Reconstructive & Aesthetic Surgery (IPRAS), the International Society of Aesthetic Plastic Surgeons (ISAPS), and the American Society for Aesthetic Plastic Surgery (ASAPS), and the Rhinoplasty Society of Europe. Dr Milovic is available for interview upon request.
To learn more about Dr Milovic, please visit drmilovic.com.au and facebook.com/DrVladMilovic.
Contact:
Dr Vladimir Milovic
Level 2, Suite 1
Epworth Hawthorn
50 Burwood Rd
Hawthorn VIC 3122
+61 3 9819 3786
Rosemont Media
(858) 200-0044
www.rosemontmedia.com