Plastic Surgeon Discusses Facial Rejuvenation Techniques: Facelift & Neck Lift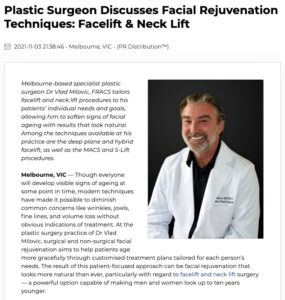 Melbourne-based specialist plastic surgeon Dr Vlad Milovic, FRACS tailors facelift and neck lift procedures to his patients' individual needs and goals, allowing him to soften signs of facial ageing with results that look natural. Among the techniques available at his practice are the deep plane and hybrid facelift, as well as the MACS and S-Lift procedures.
Melbourne, VIC — Though everyone will develop visible signs of ageing at some point in time, modern techniques have made it possible to diminish common concerns like wrinkles, jowls, fine lines, and volume loss without obvious indications of treatment. At the plastic surgery practice of Dr Vlad Milovic, surgical and non-surgical facial rejuvenation aims to help patients age more gracefully through customised treatment plans tailored for each person's needs. The result of this patient-focused approach can be facial rejuvenation that looks more natural than ever, particularly with regard to facelift and neck lift surgery — a powerful option capable of making men and women look up to ten years younger.
While a facelift and neck lift are often available as separate procedures, Dr Milovic opts to combine the surgeries in order to deliver more comprehensive rejuvenation of the face and neck. There are many types of facelifts that can be performed depending on the extent of your facial ageing, the most significant of which is known as a deep plane facelift. This technique treats the underlying musculature of the face, thereby allowing the most dramatic and long-lasting rejuvenation. Dr Milovic remarks that performing a facelift at the deeper layers of the facial tissue is fairly complex, and requires the extensive experience of a specialist plastic surgeon to obtain a successful result.
For individuals who have mild to moderate concerns, options such as the MACS (Minimal Access Cranial Suspension) facelift and the S-Lift — whose name is derived from the short, S-shaped incision used during the procedure — offer less invasive techniques to refresh the lower face. The hybrid facelift, in particular, produces a shorter scar than a deep plane facelift while incorporating 24k nanofat facial fat transfer to replenish youthful volume in flat or sunken regions of the face. The treatment options that can minimise an ageing face are plentiful, and careful research into the various facelift techniques is essential to learning the best approach for you.
Dr Milovic encourages those who are considering facial rejuvenation to consult with an accredited plastic surgeon about their goals. A facelift and neck lift are well-known for achieving the most enduring and effective results, but skincare treatments and anti-wrinkle injections can also provide noticeable enhancement for patients who may not be quite ready for cosmetic surgery.
About Vlad Milovic, FRACS (Plast.)
Dr Vlad Milovic is a specialist plastic and cosmetic surgeon who offers a myriad of face, body, and breast procedures at his Melbourne-area practice. Dr Milovic is a Fellow of the Royal Australasian Society of Plastic Surgeons (FRACS) and specialises exclusively in plastic surgery, a focus that gives his patients the confidence of knowing he has undergone many years of post-graduate education beyond the minimum required to practice. Having been trained by some of Europe and Australia's most renowned surgeons, Dr Milovic is highly experienced in cosmetic procedures like rhytidectomy (facelift) as well as reconstructive microsurgery. He is very active in the field of plastic surgery, belonging to national and international professional organizations such as the Australian Society of Aesthetic Plastic Surgeons (ASAPS) and the European Association of Plastic Surgeons (EURAPS), among several other institutions. Dr Milovic is available for interview upon request.
To learn more about Dr Vlad Milovic, visit drmilovic.com.au, facebook.com/DrVladMilovic, and @drmilovic on Instagram.
Contact:
Dr Vlad Milovic
Level 2, Suite 1
Epworth Hawthorn
50 Burwood Rd
Hawthorn VIC 3122
Rosemont Media
(800) 491-8623
www.rosemontmedia.com