Liposuction involves the use of a small hollow tube called a "cannula" that is inserted into the treatment area to suction out excess fat. Areas that are most commonly treated are the hips, stomach, thighs, buttocks, arms, and neck. Liposuction is also referred to as liposculpture because it can dramatically reshape and contour the treatment areas, and in effect, "sculpt" your body shape.
What Are the Benefits of Liposuction?
Liposuction surgery is designed to helpLiposuction is a surgical process that can target and reduce excess fat deposits. Many people seek out liposuction surgery when they want to contour a specific area of the body that has a build up of fat that has proven difficult to eliminate through exercise and dieting. Our Melbourne specialist plastic surgeon—Dr Vlad Milovic—is highly experienced in performing liposuction surgeries. Dr Milovic has your best interests in mind and can work with you to develop a treatment plan that is optimally suited to your goals.
What Is Liposuction ?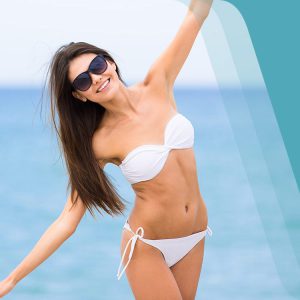 You obtain smoother, slimmer body contours by removing or reshaping pockets of fat in targeted areas. Since the procedure is specifically tailored to each patient's unique treatment goals, the final results will often vary, but you can typically expect a more toned, slender appearance around the treated area. Multiple treatment areas can often be included within the same session for more comprehensive results.
It is important to remember that liposuction is not a weight loss procedure and that patients should not expect dramatic fat or weight reduction. However, combined with diet and exercise, liposuction can reshape your body and improve your confidence. Dr Milovic will go over the wide range of potential benefits during your preoperative consultation. 
Who Is a Candidate for Liposuction?
Most patients who are in good overall health and who have reasonable expectations for the outcome of the procedure are eligible candidates for liposuction. That said, since liposuction can be performed on a variety of portions of the body, there are many factors to consider when developing a treatment plan. During your initial consultation with Dr Milovic, he can explain all of your options and help you determine whether you would benefit most from liposuction or from another treatment. 
All prospective liposuction patients will undergo a comprehensive medical review and physical examination. A survey of the areas on your body you want to target will also be done in order to help Dr Milovic develop the most appropriate treatment plan. 
What Is the Liposuction Procedure Like?
Dr Milovic performs a customised liposuction procedure using suction assisted liposuction ("SAL") ensuring that people from Hawthorn to ACT with all needs can receive a tailored care program. As always, patients need to weigh the benefits, risks, and/or complications from any surgical procedure, and the methods used to achieve it. Book your initial consultation with our clinics to learn more.
SAL is a proven, traditional method of liposuction. With this method, a small cannula is inserted into a small incision near the treatment area. It is attached to a vacuum device. The plastic surgeon carefully pushes and pulls it in a forwards and backwards motion through the fat layer, breaking up the fat cells and drawing them out of the body by suction.
Generally, this outpatient procedure takes one to two hours and calls for the use of anesthesia with an epidural and/or IV sedation.
Dr Milovic will discuss the various liposuction options with you during your first consultation. Make an appointment today at our Malvern, Melbourne clinic to start the discussion.
How Long Does Liposuction Recovery Take?
Recovery time varies from patient to patient but you should take off at least two to three days post-surgery and you should avoid lifting and bending. Most patients experience some degree of swelling and bruising, but this should resolve within a few days. A compression garment will usually be recommended to support the treatment area. You will likely be able to return to your regular exercises and workouts three to six weeks after your surgery.
How Long Do the Results of Liposuction Last?
Our liposuction procedure is designed to have lasting effects for years to come. The effects of liposuction and body contouring, in general, can have immediate effects with more defined results coming later, after the swelling has subsided. The targeted, unwanted fat cells that were eliminated during surgery will have been removed from your body permanently. By committing to a healthy lifestyle that includes maintaining a good diet and frequent exercise, future weight gain can be combated and your liposuction results can be long-lasting.
View Liposuction Before-and-After Photos
How Much Does Liposuction Cost?
Cost is always a consideration in elective surgery, but it should not be the only consideration. You have the right to be informed about the costs you can expect, before you have your surgery. This is called 'informed financial consent'.
Costs associated with the procedure may include:
Dr Milovic's surgical fee
Accredited hospital or surgical facility costs
Anaesthesia fees
Prescriptions for medication
Post-surgery garments
Medical tests
After your initial consultation with Dr Milovic, you will receive a written estimate of fees and an information pack to read before your second pre-surgery appointment. The second appointment is free of charge. Once you book your surgery, you will also see our staff who will take your pre-operative photos.
As Dr Milovic personalises each procedure for each patient, we are unable to provide you with a price estimate or "ball park" price range until Dr Milovic has had the chance to discuss your goals during an initial consultation and confirm you to be a good surgical candidate.
Are There Alternatives to Liposuction?
There are several alternatives to liposuction, including non-surgical options. At our Melbourne office, we offer Venus Legacy™ as an excellent possibility for those looking to smooth and sculpt specific areas of their body using a less invasive procedure. This treatment can increase collagen production and reduce fat cells using controlled applications of heat. The benefits can include:
Shrinking fat cells
Tightening sagging or drooping skin
Smoothing cellulite in your body
Contouring your body to appear slimmer, sculpted, and more toned
If you are interested in a less-invasive form of fat reduction, Venus Legacy™ may be an ideal option. You may also consider a tummy tuck if you are specifically interested in abdominal rejuvenation. When combined with liposuction, a tummy tuck can not only reduce fat, but also can help address loose skin and musculature, tightening and toning the abdomen with natural-looking results. This makes it a popular procedure amongst those seeking a post-pregnancy mummy makeover. 
During your initial consultation, Dr Milovic will help determine which treatment(s) are best suited to your needs and provide you with all relevant information on potential alternatives.
Additional Frequently Asked Questions
What are the risks of liposuction?
As with all surgical procedures, there are risks and potential complications. Liposuction can be very safe when a qualified specialist plastic surgeon like Dr Milovic is performing the procedure. He will discuss any potential risks with you prior to the procedure.
Is liposuction right for me?
Liposuction is a very personal decision and you should have realistic goals and expectations before undergoing surgery. But if you are unhappy with the appearance of certain areas on your body because of excess fat, Dr Milovic will examine those areas during your initial consultation and evaluate how liposuction can achieve an improvement and meet your goals and expectations.
What do liposuction scars look like?
Although there should be minimal scarring at the incision sites, scars are an inevitable part of any invasive surgery. As a fully qualified plastic and cosmetic surgeon, Dr Milovic will endeavour to minimise scarring and to keep your scars as inconspicuous as possible. Scars should fade and become barely noticeable over time.
If scarring is a concern for you after surgery, Dr Milovic will provide you with a scar treatment plan to expedite the healing of your scars. There are several treatment options including silicone gel and laser.
We have the Palomar® Artisan laser system, which is proven to give excellent results for scar reduction. Laser offers a non-invasive solution that uses fractional laser technology to deliver rapid, reliable scar removal with minimal healing time, while infection risk is virtually eliminated and little to no pain is felt.
Does liposuction require anaesthesia?
Liposuction is typically performed as a day procedure, and patients will likely undergo local anaesthesia or twilight sedation. The latter may require an overnight visit at the hospital following the procedure for observation. The duration of the procedure will depend on the amount of excess fat to be removed and the number of targeted areas. 
Modern anaesthesia can be safe and effective when done by a professional anaesthetist and an accredited plastic surgeon. Dr Milovic and your anaesthetist will provide you with the necessary information on anaesthesia prior to your operation. Dr Milovic engages the services of a qualified anaesthetist who is a Fellow of the Royal Australian and NZ College of Anaesthetists (ANZCA) to perform your sedation or general anaesthesia.
If you're interested in liposuction and think you may benefit from the procedure, contact our practice today to learn more.