A toned, flat, sculpted chest is a hallmark of the ideal male physique. When the presence of excess breast tissue, fat, and/or skin creates the appearance of accentuated male breasts, Dr Vlad Milovic can utilise a variety of advanced surgical techniques to recontour the chest for enhanced body confidence.
What Is Male Breast Reduction (Gynaecomastia Surgery)?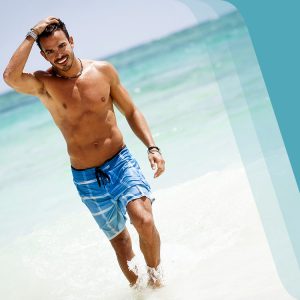 Male breast reduction is a customised surgical procedure designed to re-sculpt the male chest for a flatter, more toned appearance. The formation of noticeable male breasts can have many causes—including gynaecomastia, significant weight fluctuations, genetics, hormonal changes, steroid use, and certain medications. Regardless of the cause, Dr Milovic can create a personalised male breast reduction treatment plan, including liposuction and/or excision techniques, to achieve a more masculine chest contour. The areolae (the darker skin that surrounds the nipple), which can be disproportionately stretched or oversized, can also be reduced to achieve aesthetic balance with the new chest.
What Is Gynaecomastia?
Gynaecomastia is the development of overabundant breast tissue which creates the appearance of breasts in males. This condition can occur in one or both breasts. While gynaecomastia can become noticeable during puberty, it may resolve as hormones achieve balance. When the condition persists into adulthood and is perceived to negatively affect body confidence, men frequently consider plastic surgery to correct gynaecomastia. Typically, excision methods are best suited for men with gynaecomastia, as the glandular breast tissue must be removed to create a smoother, tighter contour. If excess skin and fat are also present, then a variety of techniques may be indicated to achieve optimal results.
What Is Pseudogynaecomastia?
Pseudogynaecomastia is a condition that may appear to be gynaecomastia; however, unlike gynaecomastia, pseudogynaecomastia is caused by a presence of excess fat, rather than enlarged breast tissue. For mild cases of pseudogynaecomastia, liposuction alone can usually provide adequate fat reduction and sculpting to achieve a satisfying result. To reduce the prominence of larger male breasts, liposuction may be combined with additional excision and reduction techniques. 
What Are the Symptoms of Gynaecomastia?
Signs of gynaecomastia often become noticeable due to hormonal changes that occur during puberty. While in some men the condition resolves after a period of time, gynaecomastia can persist into adulthood for others. Gynaecomastia is typically characterized by enlarged or swollen breast tissue (which may or may not feel tender) and can be accompanied by the presence of excess fat tissue and/or puffy or otherwise enlarged areolae. In addition to the obvious physical symptoms that characterise gynaecomastia, an abundance of men also experience psychological effects as a result of enlarged breasts, such as a lack of body confidence and shame about the appearance of their chest. Many men with enlarged breasts also do not feel comfortable taking their shirt off at the gym, at the beach, or during intimate moments, which adds anxiety and eliminates enjoyment from potentially life-enriching social activities. Through male breast reduction procedures, Dr Milovic can help men feel comfortable and confident in their bodies, which can be an integral component in combating long-standing feelings of isolation and embarrassment.
Who Is a Candidate for Male Breast Reduction Surgery?
If you are unhappy with the appearance of your chest and the condition is causing you embarrassment, Dr Milovic can examine your chest area during a consultation and evaluate how gynaecomastia treatment can achieve an improvement. Any male with enlarged breasts, who is in good health and is a non-smoker (or is prepared to give up smoking for at least six weeks before and after surgery) may be suited to undergoing gynaecomastia correction or male breast reduction. Treatment is a very personal decision and you should have realistic goals and expectations before undergoing any surgical intervention.
What Are My Male Breast Reduction Treatment Options?
Dr Milovic offers the full range of treatment options for men interested in correcting the appearance of gynaecomastia or otherwise enlarged breasts. Every male breast reduction procedure is personalised to suit each patient's unique needs and desired outcome and may include one or more of the techniques listed below:
Liposuction
When the male breasts are primarily composed of excess fat tissue, fat reduction using liposuction techniques may be all that is required to achieve an optimal result. This may not be the most suitable option for men who have experienced sudden and massive weight loss, have stretch marks, solar damage, or otherwise have less than optimal skin elasticity. Liposuction requires tiny incisions, which can be well-hidden, to accommodate the insertion of a surgical cannula that breaks down fat and suctions it from the body. During this process, Dr Milovic is mindful of creating a smoother, tighter, more masculine chest. This technique can deliver the best results in patients who have good skin elasticity. For patients with a combination of excess breast tissue and fat, liposuction may be combined with excision techniques.
 
Excision Techniques
Excision techniques may be used to remove excess breast tissue, as well as large amounts of fat and/or redundant skin. The excisional contouring techniques used and the placement of any incisions will depend on the shape, size, and composition of the male breasts. For most patients, a crescent-shaped incision along the inside border of each areola is all that is required to access and remove problematic breast and/or fat tissue. Men with larger breasts characterized by a significant amount of fat and skin—usually as the result of considerable weight gain or weight loss—may have surgical plans that include incisions beneath the breast fold and the removal of large amounts of stretched skin. 
Areola Reduction
Oversized, prominent, or stretched areolae commonly accompany enlarged male breasts, and Dr Milovic can address any cosmetic concerns with areola reduction techniques. The goal is to create the appearance of flatter, more proportionally sized areolae to accompany the reduced chest.
Will I Need Anaesthesia During Male Breast Reduction?
Gynaecomastia correction and male breast reduction surgery are typically day procedures performed under general anaesthesia or twilight sedation. In some cases, a hospital stay may be required.
Modern anaesthesia is generally considered  safe and effective, but does have some risks. Ask Dr Milovic and your Anaesthetist for more information. You can be assured that Dr Milovic will engage the services of a qualified Anaesthetist who is a Fellow of the Royal Australian and NZ College of Anaesthetists (ANZCA) to perform your sedation or general anaesthesia.
Dr Milovic and/or your anaesthetist will ask you about all the medications you are taking or have taken, and any allergies you may have. Please make sure you have an up-to-date list before the surgery.
What Happens During the Male Breast Reduction Procedure?
Depending upon your general health and the extent of the procedure, gynaecomastia surgery is typically performed as a day procedure or alternatively with an overnight hospital stay. Dr Milovic will only perform your gynaecomastia surgery in safe, accredited operating facilities. Once you are anaesthetised, Dr Milovic will perform the surgical procedure as planned, likely using a combination of techniques to create the best possible outcome. Any incisions will be as hidden as possible. Once the chest has been sufficiently recontoured, the incisions will be closed and bandaged. You may also be placed into a compression garment to control swelling and promote proper healing.
What Can I Expect During Recovery After Gynaecomastia Surgery?
Recovery time will vary from patient to patient and will also depend on the extent of the surgery. Expect at least seven days off from work and allow for three weeks for most, if not all, swelling and bruising to disappear. Light exercise, such as walking, may be resumed within two to three days, but strenuous exercise should be avoided for at least two to three months. You will be given post-surgery instructions to follow and if you have any questions, please call our offices.
Will I Have Scars After Male Breast Reduction Surgery?
Scars are an inevitable part of any surgery and there can be no guarantee for a perfect outcome. Dr Milovic will endeavour to minimise scarring and to keep your scars as inconspicuous as possible. After surgery, the scars are typically reddish in colour but these will fade in time to a light pink. After one or two years the scars become barely noticeable. And, in our experience, most of our patients believe that the aesthetic results of the procedure are well worth the resulting scars.
If scarring is a concern for you after surgery, Dr Milovic will provide you with a scar treatment plan to expedite the healing of your scars. There are several treatment options including silicone gel and laser.
Male Breast Reduction & Gynaecomastia Correction Results
If you are interested in finding out more about what your male breast reduction or gynaecomastia correction results could look like, we invite you to explore our gallery of before-and-after photos. These images feature Dr Milovic's patients. When you come to our office for your consultation, Dr Milovic can show you more photos of patients whose cases are similar to your own, so that you can set your expectations appropriately.
How Much Does Male Breast Reduction Cost?
Cost is always a consideration in elective surgery, but it should not be the only consideration. You have the right to be informed about the foreseeable costs before you have your surgery.  This is called 'informed financial consent'.
Costs associated with the male breast reduction procedure may include:
Dr Milovic's surgical  fee
Accredited hospital or surgical facility costs
Anaesthesia fees
Prescriptions for medication
Post-surgery garments
Medical tests (if required)
After your initial consultation with Dr Milovic, you will receive a written estimate of fees and an information pack to read before your second pre-surgery appointment. The second appointment is free of charge. Once you book your surgery, you will also have pre-operative photos taken.
In some cases, the final costs may vary from the original estimate because of complications, longer operative time or changes requested by the patient. Additional procedures may also be necessary at an additional cost.
Where you might have an item number for this procedure, you should check with your private health insurer to see if any part of the procedure is covered. This could save you hospital accommodation costs and provide you with a rebate on the surgery cost.
For cosmetic procedures, you will be charged the goods and services tax (GST).
We welcome any questions you may have regarding fees.