An abdominoplasty or "tummy tuck" is a surgical procedure designed to trim excess skin on the abdomen, tighten abdominal muscles, and remove excess fat. These concerns can be caused by one or multiple pregnancies (in the case of women), substantial weight loss, or an inherited trait in which no amount of exercise can solve the problem. Dr Vlad Milovic, a specialist plastic surgeon, performs tummy tuck surgery on men and women using the latest techniques to provide a natural-looking and beautiful outcome. View examples of our successful procedures in our Tummy Tuck Photo Gallery.
What Can a Tummy Tuck Accomplish?
While a tummy tuck can be a cosmetic procedure meant to enhance the appearance of the figure, it may also be used as a reconstructive procedure intended to:
Correct abdominal abnormalities
Correct structural defects of the abdomen and improve function
Create a flatter appearance of the abdomen
Repair an abdominal hernia following previous abdominal surgery
Remove a large apron of fat also called the "pannus" that can cause problems with hygiene, dermatitis, and skin infections, as well as difficulties with walking. The surgical removal of the pannus is called an "apronectomy"
Your goals, expectations and an understanding of achievable results are most important, and these will also be discussed during your consultation.
Is a Tummy Tuck Right for Me?
Abdominoplasty or tummy tuck surgery is a highly individualised procedure, and as such, may not be suitable for everyone. It is a very personal decision and you should have realistic goals and expectations before undergoing surgery.
At your first consultation, Dr Milovic will assess your general health, examine your abdomen, discuss your concerns, evaluate how an abdominoplasty can improve your appearance, and help determine whether the procedure is right for you. If you are planning to have more children, you should discuss this with Dr Milovic at your consultation; however, it is advisable to wait until after you have completed your family to have this procedure.
A tummy tuck is not suitable for people who cannot have anaesthetic, are prone to bleeding, have poor healing ability, or are too high of a risk for surgical complications.
A tummy tuck is not a substitute for weight loss or an appropriate exercise program. Keep in mind that while the results of a tummy tuck are technically permanent, the positive outcome can be greatly diminished by significant fluctuations in your weight. For that reason, you may be asked to consider delaying the procedure if you are still in the process of losing weight or if you are planning on having more children.
A tummy tuck may be a good option for you if you:
Desire improvement of skin and muscle laxity in the abdominal area
Are physically healthy and at a stable weight
Have realistic expectations
Are a non-smoker or have stopped smoking, or will stop smoking during the surgery and entire recovery period
What Are My Tummy Tuck Options?
There are a number of tummy tuck options available that include the mini tummy tuck and Brazilian tummy tuck (waist recontouring). Dr Milovic will discuss these options with you at your first consultation.
Mini Tummy Tuck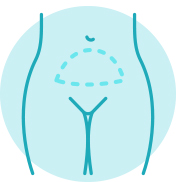 This procedure addresses skin laxity and excess fatty tissue located below the belly button area. The abdominal muscles usually are not tightened in this approach, so it is suitable for only very specific patients with needs focused primarily within the lower waistline.
Brazilian Tummy Tuck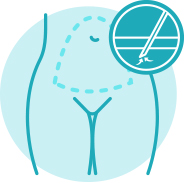 Waist recontouring, also known as a Brazilian tummy tuck, is an innovative technique pioneered by Dr Milovic which is designed to enhance the hourglass figure in women and the sculpted V-shape in men by using updated abdominoplasty methods. This procedure can be performed in combination with a traditional tummy tuck approach or apronectomy in suitable cases.
Full Tummy Tuck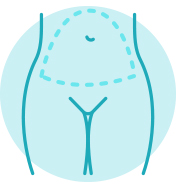 To address excess skin, muscle laxity, and unwanted fatty tissue above and below the belly button, a full tummy tuck is often recommended. In this procedure, an incision stretching from hip to hip is made low on the abdomen, in a location that should be hidden under swimwear and underwear. Dr Milovic can then tighten the underlying muscles and trim excess skin to create a flat and toned waistline.
How Is the Tummy Tuck Procedure Performed?
You will have at least two consultations with Dr Milovic before surgery, and he can answer specific questions about what to expect after your operation. Be sure to ask questions to ensure that you go into this procedure feeling comfortable with realistic expectations. Dr Milovic will give you specific instructions on post-operative care before your surgery. These instructions may include:
How to care for the surgical site and drains
How to apply medications
Specific concerns to look for at the surgical site or in your general health
When to follow-up with your surgeon
Dr Milovic will only perform your abdominoplasty surgery in safe, accredited operating facilities. Abdominoplasty is performed under general anaesthesia and can require a one to two night hospital stay. The procedure can take between two to three hours to complete, depending on which surgical technique is used and the complexity of your case.
During the operation, and depending on the details of your treatment plan, Dr Milovic will create an incision along the lower abdomen to access the foundational structures. Once the muscles have been tightened (creating a corset-like shape that holds in and flattens the waistline), the belly button will be relocated, fatty tissue removed via liposuction, and excess skin trimmed away. The incision will be closed up and bandages applied.
What Can I Expect During Recovery from Abdominoplasty?
Recovery time will vary from patient to patient and will also depend on the extent of the surgery. But expect at least two weeks off work to allow for complete rest and another one week for the majority of visible swelling and bruising to disappear. Light exercise may be resumed within two to three days, but strenuous exercise should be avoided for at least two to three months. You will be given post-surgery instructions to follow and if you have any questions, please speak to Dr Milovic and/or his practice nurse.
Following your surgery, dressings or bandages may be applied to your incisions. You may be wrapped in an elastic bandage or a compression garment to minimise swelling and to support your abdomen as it heals. A small, thin tube may also be temporarily placed under the skin to drain any excess blood or fluid that may collect.
Will I Have Visible Tummy Tuck Scars?
Abdominoplasty incisions are generally made on the bikini line, but this can vary. Initially after surgery the scars are typically reddish in colour, but they should fade in time to a light pink. After one or two years the scars become barely noticeable. In our experience, most of our patients believe that the aesthetic results of the procedure are well worth the resulting scar. If scarring is a concern for you after surgery, Dr Milovic will provide you with a scar treatment plan to expedite the healing of your scars. There are several treatment options, including silicone gel and laser therapy.
What Are the Risks Associated with Abdominoplasty?
As with all surgery there are risks and potential complications. We make every effort to reduce or eliminate the possibility of complications, but all patients should be aware of the possibilities. In addition to using highly-qualified anaesthetists who are Fellows of the Royal Australian and New Zealand College of Anaesthetists (ANZCA) for your sedation, Dr Milovic employs state-of-the-art techniques designed to reduce healing time and complications. Dr Milovic will also discuss the potential risks with you prior to any surgery taking place.
How Long Does a Tummy Tuck Last?
Abdominoplasty surgery is technically a permanent surgery; however, your lifestyle and habits can modify your results, as can the natural process of aging. Pregnancy and childbirth, as well as significant weight gain, can alter your abdominal contours, which is why we recommend maintaining a healthy weight and waiting until you have finished building your family to have a tummy tuck. Abdominoplasty does not inhibit your ability to get pregnant, so should you decide to have another child down the line, this procedure should have no impact on your fertility. If after the child you wish to have another surgery, Dr. Milovic may be able to help you restore your figure once more. Would you like to learn more about tummy tuck surgery and its benefits? Contact our practice to find out if this procedure can aid you in achieving your goals.