Breast augmentation is a personal decision, and women choose to have their breasts enhanced for many different reasons. The reasons vary from breasts that have lost volume, breasts that are not equal in size (breast asymmetry) or tuberous in shape, breasts that are somewhat small or underdeveloped, or breasts that require reconstruction after a mastectomy or injury. Having greater self-confidence to experience all that life has to offer is often associated with feeling proud about your overall appearance, including your body shape.
If you are considering breast augmentation, you are about to make an exciting, life-affirming decision that will require expert guidance from your pre-operative to post-operative phases by a specialist plastic surgeon, such as Dr Milovic, who has an aesthetic mindset.
Dr Milovic's ultimate objective is to give you the breasts that you want and this will require time with you to understand your aesthetic goals. Whether you are after the natural or augmented look, Dr Milovic's pre-surgery consultations will help explain the procedure, determine whether your goals are achievable, and answer your questions prior to your breast augmentation. More information is available at our clinic nearest you.
Trusted Experience & Personalised Approach
Dr Milovic's easy-going yet professional and straightforward manner instills confidence and trust in his patients, helping you to make an informed decision about the right procedure and breast shape for you. He does not take a "cookie cutter" approach to breast enlargement and augmentation surgery. Implant selection is based on your unique circumstances, not what we have in stock or the latest deal from the implant manufacturer. It will always be based on what is right for you.
Another important factor Dr Milovic will consider is your natural anatomy including your chest wall and breast measurements. This is important to ensure that the right implant is matched with your goals and natural body shape. If you choose a breast implant that is too large for your tissue or frame, the implant edges may be visible or palpable after your surgery. This is what contributes to the "fake" look. If this is the look that you want, you should also know that excessively large implants may speed up the effects of gravity on the breast and could contribute to drooping or sagging at an earlier age.
Who Is Performing Your Breast Augmentation?
Breast augmentation procedures are one of the most common procedures performed in Australia today.
Yet breast augmentation, like all surgery, has risks and complications associated with it. Just because it's a popular cosmetic procedure nowadays, don't assume that it's a simple procedure with little or no aftercare, or that the surgery will be performed by a qualified and experienced plastic surgeon. Always ask questions to help you determine if a potential plastic surgeon is right for you.
Is Breast Augmentation Right for Me?
Breast augmentation is a highly individualised procedure and may not be suitable for everyone. As your plastic and cosmetic surgeon, Dr Milovic will assess your condition and general health, as well as plan the treatment that is best suited to you.
Before you decide on breast augmentation with implants, there are some important issues to keep in mind:
Breast augmentation does not correct droopy breasts (ptosis). A breast lift (or mastopexy) may be required as well.
Breast implants may affect your ability to breastfeed (individual results may vary).
The breast augmentation procedure and implants are not guaranteed to last a lifetime. As you age, experience changes with your weight, or decide to have children, it may be that further surgery is required. As a general rule of thumb, breast implants can be replaced after at least 10 years. That is why it's important to keep all the details of your breast augmentation procedure, including implant information, for at least 10 years.
Smokers are at increased risk of complications from any surgery. If you are serious about undergoing cosmetic surgery, you should try to quit smoking.
There are alternatives to cosmetic surgery. These may include other treatments, wearing padded bras, or accepting yourself the way you are. You should not feel pressured by anyone to have surgery. This is a personal decision.
Implants Do Not Replace a Breast Lift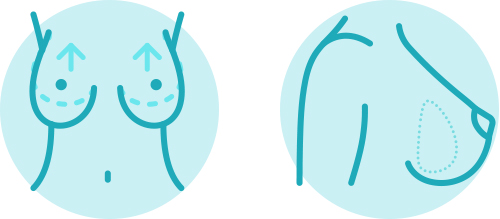 It is important to realise that implants are used to make breasts larger and when used alone, will not adequately lift the breast or correct the effects on your breasts after breastfeeding, weight loss, or skin stretching. You may need to consider whether a mastopexy (breast lift) can help you achieve the desired lift and shape.
Are There Contraindications for Breast Implants?
Not everyone who wants to have surgery should have it. As you will choose Dr Milovic, he chooses his patients as well based on the consultations before surgery, and the information he receives about each patient. Dr Milovic has the right to refuse to operate on patients he considers to be unsuitable surgical candidates.
Some of the common contraindications for breast implant surgery include—but are not limited to—women who:
Are pregnant or breastfeeding
Have existing malignant or pre-malignant cancer of the breast
Have had radiation treatment to their breast
Have an active infection anywhere in their body
Have conditions which interfere with wound healing and blood clotting
Have autoimmune diseases and other serious medical conditions
Have a compromised immune system
Have reduced blood supply to breast tissue
Bave saggy or ptotic breasts and require a breast lift together with implants
What Are My Breast Implant Options?
A breast implant is a sac (shell) of silicone elastomer filled with silicone gel or saline, which is implanted under your breast tissue or under your chest muscle, or both (dual plane).
Dr Milovic uses highly cohesive gel implants which are not liquid or even semi-liquid. These implants retain the natural give that resembles breast tissue, and are offer either a textured or smooth surface shell.
Breast implants are measured in cubic centimetres, or cc's, not in cup sizes. Cup sizes can be misleading as various bra manufacturers use different measurements. The size of the implant used depends on the size and shape of each individual woman's chest.
Depending on the shape you wish to achieve, Dr Milovic will discuss with you either a round or anatomical ('teardrop') implant as well as the degree of implant projection (low, medium, high and extra high). Extra high profile implants provide the greatest forward projection for a more obvious silhouette and are generally designed for women with a narrower chest area. Women with wider frames are often advised to have a lower profile (and wider base) implant. But this is not a hard and fast rule, and other factors will be taken into consideration and discussed during your consultation. So, having a personalised discussion about your breast augmentation surgery is an important step in getting the breasts you want.
In addition to size and shape, breast implants are available in different profiles (known as the amount of forward projection off the chest wall).
Dr Milovic will also assess your existing breast and skin tissue to determine if you have enough to cover the breast implant you are thinking about. In some cases, such as after pregnancy, you may have excess skin, which leads to breast sagginess.
Together with Dr Milovic, you can decide which implant shape, size, and profile is right for you.
Choose the Placement Location
How Is Breast Augmentation Surgery Performed?
For your comfort and safety you will be anaesthetised under general anaesthesia. Dr Milovic partners only with anaesthetists who are qualified Fellows of the Royal Australian and New Zealand College of Anaesthetists to ensure the best possible experience. An incision will be made in one of several possible places: periareolar (on the pigmented area around the nipple), inframammary (in the crease located on the underside of the breast where it meets the chest), or transaxillary (in the underarm). Only saline implants can be placed using a transaxillary incision, as they are filled after insertion. Dr Milovic will discuss which incision technique will be right for you during your initial consultation.
The breast implants will then be placed in one of three locations: on top of the pectoralis (chest) muscle, below the pectoralis muscle, or dual plane (partially submuscular). Again, the decision on placement will be discussed with you before the surgery, and which will best achieve your desired result.
What Can I Expect During Recovery from Breast Augmentation?
It is common to have some pain a few days after surgery; however, pain medication will help to reduce the discomfort. Dr Milovic recommends that you take at least two weeks off post-surgery and avoid physical activity, particularly that which requires lifting or raising your arms. Gentle stretching can prove beneficial and exercise, such as walking, can commence within about seven days. Most patients return to work within three to five days unless their occupation involves strenuous movements, then a period of at least two to three weeks is recommended. You will be given post-surgery instructions to follow and if you have any questions, please speak to Dr Milovic and/or his practice nurse. It is important to follow our evidence based post op protocols to achieve your desired result.
Will I Have Breast Augmentation Scarring?
Scars are an inevitable part of any surgery– there can be no guarantee for a perfect outcome. Dr Milovic will endeavour to minimise scarring and to keep your scars as inconspicuous as possible by locating the incisions in easily hidden sites. That way, scars will be along natural skin lines and creases. Scars should fade with time and become often become barely noticeable.
If scarring is a concern for you after surgery, Dr Milovic will provide you with a scar treatment plan to expedite the healing of your scars. There are several treatment options, including silicone gel and laser skin treatment.
What Breast Augmentation Complications Are Possible?
Dr Milovic and our medical team make every effort to ensure your safety, but all forms of surgery come with some risk. Being prepared for any possibility should be part of the process of determining if breast augmentation is right for you. While uncommon, some complications associated with this procedure are:
Some of these issues may be correctable with surgery, which may involve removing or replacing the implants. If you have any questions about your results, please contact our practice for assistance.
Dissatisfaction with the results
Capsular contracture (hardening and distortion of the scar tissue surrounding the implant)
Breast pain
Infection
Changes in nipple and breast sensation
Implant leakage or rupture
Some of these issues may be correctable with surgery, which may involve removing or replacing the implants. If you have any questions about your results, please contact our practice for assistance.
How Long Do Breast Implants Last?
Regardless of the implants used, it's important to know that breast implants are not considered to be lifetime devices. You will likely undergo implant removal and replacement over the course of your life, also called implant revision. This could be 5, 10, or 20 years down the track. Some patients never require breast revision surgery, but many do. This is why it's important to stay in contact with your plastic surgeon over the long term.
Many of the changes to your breasts after implantation are irreversible (in other words, they cannot be undone). Problems such as rupture, capsular contracture, infection and shifting can require removal of the implants. Many women will have their implants replaced when the time occurs, but for those women who remove them without replacement, there can be dimpling, puckering, wrinkling, or other cosmetic changes of the breast.
Deposits of calcium can be seen on mammograms and can be mistaken for cancer growths, resulting in biopsy and/or removal of the implant to distinguish them from cancer. We can provide more information as needed at your consultation.
What Does Breast Augmentation Cost?
We understand that cost is something virtually all patients have to be mindful of, but it shouldn't be the only or primary concern. We respect the responsibility of providing essential information, including costs you can expect, prior to your surgery. Many factors play a role in determining the total cost of your treatment plan, including the surgeon's fee, surgical facility fee, anaesthesia fee, medical prescription costs, medical testing fees, and potentially others.
Following your first consultation with Dr Milovic, we will provide a written estimate of your program as well as informative materials to read before your second pre-op or staged appointment. Once you are happy with your decision to proceed, and you have possible dates in mind, your follow-up pre-surgical appointment will be scheduled. This visit is complimentary. Once the surgery is scheduled, our practice nurse will take your pre-op photos and measurements for your compression bra. If you have any additional questions, please don't hesitate to contact our office.
Removal & Replacement of Breast Implants
Dr Milovic has performed corrective or revision surgery for breast augmentation patients who are either not happy with the final look of their breast enhancement or who have had complications. Complications can occur after any surgery, and do not necessarily reflect the skill of the surgeon. If another surgeon has performed the original surgery, Dr Milovic will ask about the original surgery, so you will need to have as much information as you can.
Patients need to understand that it is often harder and more costly to revise breast augmentation than it is to perform the initial surgery. Every surgeon has their own approach to corrective surgery, and there is substantial variance depending on the training, experience, and judgment of the surgeon. This applies particularly to surgeons who are not trained in the specialty of plastic, reconstructive, and cosmetic surgery in the way that plastic surgeons, like Dr Milovic, are.
You should note that not all revision cases will be accepted by our practice, and approval is made on a case-by-case basis. Photos will be required and our staff will initially discuss your case with you. However, not all cases will be suited to revision, and sometimes this decision cannot be made until Dr Milovic has consulted with you. Other times, we will be able to advise you before a consultation is made.
Are There Alternatives to Breast Augmentation?
Breast augmentation surgery is elective; that is to say you don't have to have it at all. It's a choice and as such, you should think about it as carefully as you would any surgery. Just because it's a common procedure these days, doesn't mean it doesn't carry risks and complications like any other surgery.
You can choose to do nothing, and accept your breasts as they are. You can also wear a padded bra or use an external prosthesis (such as a bra filler).
It's unfortunate that there are some doctors who will operate on patients who are deemed unsuitable by plastic surgeons. That's why it's important to not do anything unless you are sure, and to do your homework about your surgeon's qualifications as well as the surgery itself. You should have all your questions answered to your satisfaction. If you are unsure, or if you feel pressured, you should reconsider having breast augmentation surgery.
Breast Augmentation FAQs
To help you find all of the information you need to make the right decision for you, Dr. Milovic has answered some of the most commonly asked questions we hear regarding breast augmentation. If you would like to know more, please contact our practice.
Where will the surgery take place?
The surgery is performed at an accredited facility or a hospital setting. Most breast augmentation procedures are performed as same-day surgeries, and you will likely be able to return home the same day. The specifics of your plan will determine if your situation calls for a longer stay. For additional information, please read our patient resources page.
Will there be much pain after breast augmentation?
Every woman's body is different and will heal at a different rate. Pain, time away from work, bruising and tenderness will vary. It's important to discuss your procedure and special recovery needs with Dr Milovic. Generally speaking, though, there are some guidelines and expectations that apply to most post-augmentation patients. In addition to going over what can be planned for, you will receive this helpful material after your first appointment with Dr Milovic.
Can you be too old for implants?
There is a minimum age limit for certain breast implants, but there is no upper age limit as long as you are in overall good health.
Will my breasts still move like normal breasts?
This depends upon a lot of things, such as the type of implants you have chosen, pocket dissection, the way your body holds the implant and whether or not there is any degree of capsular contracture. Some women will have results that are firmer and more fixed in position.
What causes silicone breast implants to rupture?
Causes of rupture include damage by surgical instruments during surgery, capsular contracture, closed capsulectomy, stresses (such as trauma or intense physical manipulation), excessive compression during mammograms, and unknown reasons. It's important to understand that breast implants can potentially wear out over time and rupture, which is why Dr Milovic uses cohesive-gel implants designed to resist leakage and rupture.
Will smoking affect the healing process?
Smoking causes blood vessels to constrict, reducing the blood supply and oxygen carried to the surgical area. Recovery tissues need good circulation and plenty of oxygen, so smoking slows down the healing process. Ask Dr Milovic how long he would like you to refrain from smoking before and after surgery.
What is capsular contracture?
Capsular contracture is a condition involving excessive scar tissue which forms around an implant. It can leave the breast feeling hard and immobile. Capsular contracture cannot be predicted, but new surgical techniques used by Dr Milovic can help reduce the risk.
Your body's response to an implanted, foreign object and the way it produces scar tissue can factor into the risk of capsular contracture. You should discuss this with Dr Milovic if you feel concerned, so that all efforts can be made to reduce your risk.
Will I need revisional surgery?
Breast augmentation is not guaranteed to last a lifetime. Future surgery is often required to replace one or both implants, generally after 10 years. Your breasts will change over time, with ageing or breastfeeding for instance, and this is when you may consider having revisional surgery. You may also wish to change the shape or size of your implants over time. Sometimes you may need revisional surgery if you develop a complication from the original surgery.
The practice of medicine and surgery is not an exact science. Although good results are expected, there is no guarantee. In some situations, it may not be possible to achieve optimal results with a single procedure and another surgery may be necessary.