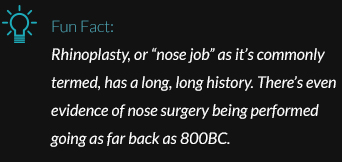 Rhinoplasty, also called nose surgery, is a procedure designed to enhance the appearance and function of the nose. If you are unhappy with the shape and/or contour of your nose, or you have difficulty breathing well after a traumatic event (or perhaps you were born with this issue), you may consider rhinoplasty to address these concerns. Dr Vlad Milovic, our specialist plastic surgeon, uses the latest surgical techniques to provide a natural-looking outcome, and he can help you determine if rhinoplasty is right for you.
What Nasal Concerns Can Rhinoplasty Address?
Rhinoplasty can help you address a number of cosmetic and/or functional concerns. Some of the common issues treated by rhinoplasty include:
Am I Candidate for Rhinoplasty?
Rhinoplasty is a very personal decision, and you should have realistic goals and expectations before undergoing surgery. Generally, rhinoplasty is performed on patients older than 16 or when the nose has developed fully, and there is no upper age limit on the surgery. Dr Milovic will examine your nose during your initial consultation and discuss how rhinoplasty can achieve an improvement and meet your goals and expectations. If you are in good health and you are a non-smoker (or you are prepared to give up smoking for at least 6 weeks prior to and after surgery) you may be a suitable candidate for rhinoplasty.
Open Rhinoplasty Vs. Closed Rhinoplasty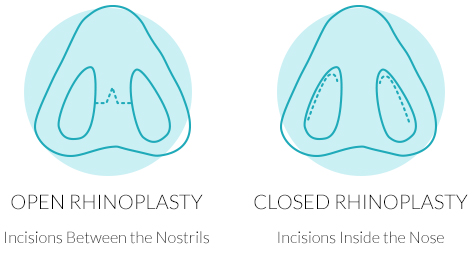 There are two techniques or options which may be considered: the closed technique or the open technique. Both will involve incisions inside of the nose, where most people will never see them again. With open rhinoplasty, however, a second incision will be necessary between the nostrils to access all the interior structures. The appropriate technique for your anatomical needs and desired outcome will be determined at your initial consultation.
Ultrasonic Rhinoplasty
Dr Milovic also performs ultrasonic rhinoplasty, a technique he brought to Australia from Europe. This procedure is often referred to as Piezo rhinoplasty because the nasal bones are finely sculpted (rather than broken) using a specialised surgical tool called a Piezoelectric wand. This ultrasonic instrument is designed to minimise trauma during bone reshaping and deliver refined results. Following ultrasonic rhinoplasty, patients generally experience less swelling and bruising for an easier recovery. Not all rhinoplasty patients are good candidates for this approach, as certain aesthetic changes to the nose may not be possible with this technology. To find out if you can benefit from this technique, it is important to undergo an evaluation with Dr Milovic and discuss your options. Learn more about ultrasonic rhinoplasty.
Ethnic Rhinoplasty
When Dr Milovic assesses you for the rhinoplasty procedure, he will take your ethnicity into consideration. Not everyone should have a Caucasian nose, nor what is commonly referred to as the "ski jump" nose (one that is noticeably sloped or curved along the bridge). So, Dr Milovic does not use the same surgical approach on every patient. Rather, your facial anatomy, ethnicity, and aesthetic goals will be discussed during your pre-op consultations.
"Racial incongruity" occurs when there is an imbalance between the physical traits of an individual and what is often associated with their ethnic background or their other features. Such a disproportion between the nasal and facial anatomy can appear awkward and "over-operated". The over-operated look can be avoided with an experienced plastic surgeon, like Dr Milovic, whose patients are ethnically diverse. Also, proper pre-operative evaluation and precise technical execution is necessary.
You may want a "dramatic" difference without close attention to keeping your "ethnic" nose, or you may be the type of patient who wants a subtle refinement without loss of your ethnic traits. Your needs and goals will guide the development of your program.
Whilst Dr Milovic advocates a natural approach, he will discuss your cosmetic goals and wishes with you and present the best way forward to achieve the look you want. He will also detail his reasons for or against a particular approach and, ultimately, it will be up to you to make the final decision.
Dr Milovic is well-experienced and trusted to operate on ethnic noses, including African, Asian, Middle Eastern, and Eastern European patients. While each ethnic group shares a range of nasal characteristics, there are classical features which are commonly present and recognised by Dr Milovic.
What Can I Expect During the Rhinoplasty Procedure?
Depending upon your general health and the extent of the procedure, rhinoplasty surgery is typically performed as a day procedure, or alternatively (as needed) with an overnight hospital stay. Under normal circumstances nose surgery takes 1-2 hours. Dr Milovic will only perform your rhinoplasty surgery in safe, accredited operating facilities.

What Is Recovery from Rhinoplasty Like?
Support surgical packing will be placed in the nose during the surgical procedure and will generally be removed within 24-48 hours post-surgery. The bandaging and splint will be removed within about 10 days. Your face will be swollen and bruised for at least 10 days after surgery, and Dr Milovic may also recommend mild pain medication to alleviate any discomfort. Cold compresses will also help to minimise the swelling and bruising.
Recovery time will vary from patient to patient, but you should expect to take off at least two weeks from your normal activities, including work, and it may be several weeks before you can resume any strenuous exercise. You will be given post-surgery instructions to follow and if you have any questions, please speak to Dr Milovic and/or his practice nurse.
How Much Does Rhinoplasty Cost?
The price of rhinoplasty will range from plastic surgeon to plastic surgeon and treatment plan to treatment plan. Cost is always a consideration in elective surgery, but it should not be the only consideration. You have the right to be informed about the costs you can expect, before you have your surgery. This is called "informed financial consent". When you call our office, we can provide a starting price point for this procedure, and we will review the full cost of your treatment plan at the consultation.
Costs associated with the procedure may include:
Dr Milovic's surgical fee
Accredited hospital or surgical facility costs
Anaesthesia fees
Prescriptions for medication
Post-surgery garments
Medical tests
After your initial consultation with Dr Milovic, you will receive a written estimate of fees and an information pack to read before your second pre-surgery appointment. The second appointment is free of charge. Once you book your surgery, you will also see our practice nurse, who will take your pre-operative photos.
We welcome any questions you may have regarding fees.
Is Non-Surgical Rhinoplasty an Option?
A growing number of cosmetic practices are offering "liquid nose jobs". For a narrow selection of concerns, this approach using dermal fillers could be helpful, temporarily. If you want to "try on" rhinoplasty before committing to a surgical procedure, this may be a suitable technique for you. For most issues, the best and often only way to permanently change the shape, function, and overall appearance of the nose is with rhinoplasty performed by a skilled plastic surgeon. Of course, we are always happy to discuss all of the available options, their advantages and drawbacks, and other considerations with you at your consultation.
Additional Frequently Asked Questions
To help you find all of the information you need to make the right decision for you, Dr. Milovic has answered some of the most commonly asked questions we hear regarding rhinoplasty. If you would like to know more, please contact our practice.
Will I need anaesthesia?
Rhinoplasty is generally performed as a day (outpatient) procedure under general anaesthesia.
Modern anaesthesia is considered safe and effective but does have some risks. Ask Dr Milovic and your anaesthetist for more information. You can be assured that Dr Milovic will engage the services of a qualified anaesthetist who is a Fellow of the Royal Australian and NZ College of Anaesthetists (ANZCA) to perform your sedation or general anaesthesia.
Dr Milovic and/or your anaesthetist will ask you about all the medications you are taking or have taken, and any allergies you may have. Please make sure you have an up-to-date list before the surgery.
Will I have a scar after rhinoplasty?
If you have an open rhinoplasty surgery, a small incision is made on the underside of the nose on the piece of flesh that separates the nostrils (this is called the columella). Once healed, this scar is inconspicuous on most patients, and few of them report noticing it or having family or friends who observe the mark. For closed rhinoplasty procedures, the incisions are all internal, and therefore virtually invisible.
How can I reduce swelling after rhinoplasty?
Cold compresses are recommended for reducing swelling, and we also suggest keeping your head elevated when sleeping or lying down. This can be achieved by layering a few extra pillows or other soft cushions.
When can I blow my nose after rhinoplasty?
With the packing and swelling, it's normal to feel a bit "stuffed up" in your nose, but you should resist blowing your nose for at least two weeks, potentially as many as four, to ensure excellent healing. The better your recovery, the better your results, so call if you have any questions about guidelines during healing.