Breast Augmentation (Implants)
HAVE NATURAL, FULLER BREASTS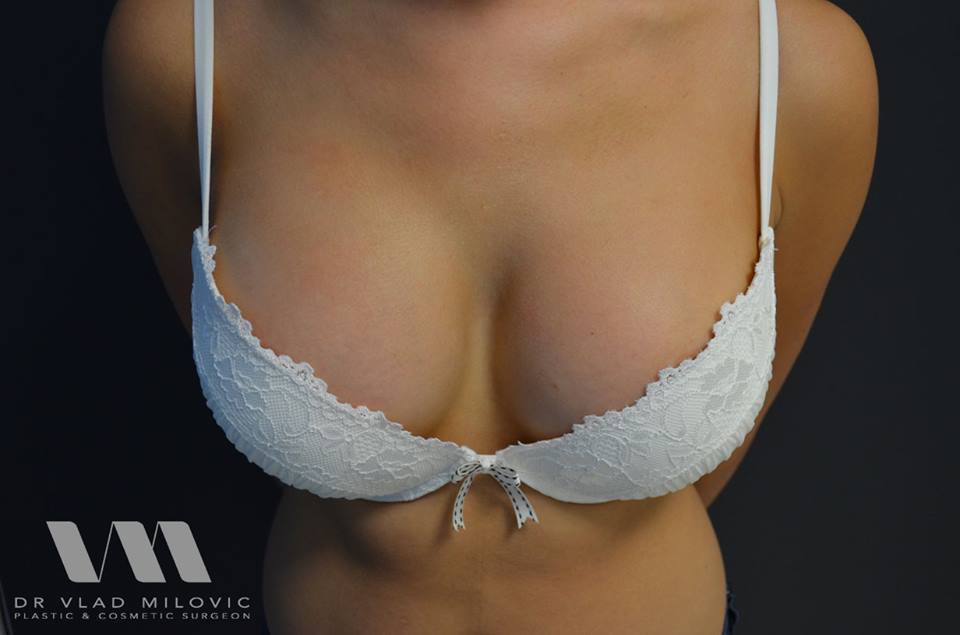 Breast Augmentation is a personal decision and women choose to have their breasts enhanced for many different reasons. The reasons vary from breasts that have lost volume, breasts that are not equal in size (asymmetrical) or tuberous in shape, breasts that are somewhat small or underdeveloped or breasts that requires reconstruction after a mastectomy or injury.
Having greater self confidence to experience all that life has to offer is often associated with feeling proud about your overall appearance, including your body shape.
You are about to make an exciting, life affirming decision which will require expert guidance through your pre-operative to post-operative phases, by a highly qualified Plastic Surgeon, such as Dr Milovic, who has an aesthetic mindset.
Dr Milovic's ultimate objective is to give you the breasts that you want and this will require time with you to understand your aesthetic goals.
Whether you are after the natural or augmented look, Dr Milovic's pre-surgery consultations will help explain the procedure, whether your goals are achievable and answer your questions prior to your breast augmentation procedure at either of his Malvern, Melbourne or Deakin, Canberra practice locations. Whether you're in Hawthorn or the ACT, breast augmentation information is available at your nearest clinic.
TRUSTED EXPERIENCE
Dr Milovic's easy-going yet professional and straightforward manner instils confidence and trust in his patients, helping you to make an informed decision about the right procedure and breast shape for you.
See more case examples in the Breast Augmentation Gallery.
A personalised approach to your breast augmentation
Dr Milovic does not take a "cookie cutter" approach to breast enlargement and augmentation surgery.   Implant selection is based on your unique circumstances, not what we have in stock or the latest deal from the implant manufacturer.  It will always be based on what is right for you.
Another important factor Dr Milovic will consider is your natural anatomy including your chest wall and breast measurements.   This is important to ensure that the right implant is matched with your goals and natural body shape.   If you choose a breast implant which is too large for your tissue or frame,  the implant edges may be visible or palpable after your surgery.  This is what contributes to the "fake" look.    If this is the look that you want, you should also know that excessively large implants may speed up the effects of gravity on the breast and could contribute to drooping or sagging at an earlier age.
Implants do not replace a breast lift
It is important to realise that implants are used to make breasts larger and when used alone, will not adequately lift the breast or correct the effects on your breasts after breastfeeding, weight loss or skin stretching.    You may need to also consider whether you need to have a mastopexy (breast lift) as well to achieve improved lift and shape.
Breast Implant Shapes & Sizes
A breast implant is a sac of silicone elastomer filled with silicone gel or saline, which is implanted under your breast tissue or under your chest muscle, or both (dual plane).
Dr Milovic uses highly cohesive gel implants which are not liquid or even semi-liquid.  These implants retain the natural give that resembles breast tissue, and are either textured or smooth surface shell.
Breast implants are measured in cubic centimetres or cc's not in cup sizes.  Cup sizes can be misleading as various bra manufacturers use different measurements.  The size of the implant used depends on the size and shape of each individual woman's chest.
Depending on the shape you wish to achieve, Dr Milovic will discuss with you either a round or anatomical ('tear drop') implant as well as the degree of implant projection (low, medium, high and extra high).   Extra high profile implants provide the greatest forward projection for a more obvious silhouette and are generally designed for women with a narrower chest area.  Women with a wider frame, are often advised to have a lower profile (and wider base) implant.  But this is not a hard and fast rule, as other factors will be taken into consideration and discussed during your consultation with Dr Milovic.  So, having a personalised discussion about your breast augmentation surgery is an important step in getting the breasts you want.
In addition to size and shape, breast implants are available in different profiles ie the amount of forward projection off the chest wall.
Dr Milovic will also assess your existing breast and skin tissue to determine if you have enough to cover the breast implant you are thinking about.  In some cases, such as after pregnancy, you may have excess skin which leads to breast sagginess.
Together with Dr Milovic, you can decide which implant shape, size and profile is right for you.
Breast implants are not permanent devices
Regardless of the implants used, it's important to know that breast implants are  are not considered to be lifetime devices.  You will likely undergo implant removal and replacement over the course of your life, ie a revision.  This could be 5 years, 10 years or 20 years down the track.
Many of the changes to your breasts after implantation are irreversible (ie cannot be undone). Problems such as rupture, capsular contracture, infection and shifting can require removal of the implants.  Many women will have their implants replaced when the time occurs, but for those women who remove them without replacement, there can be dimpling, puckering, wrinkling or other cosmetic changes of the breast.
Deposits of calcium can be seen on mammograms and can be mistaken for cancer growths, resulting in biopsy and/or removal of the implant to distinguish them from cancer.
Contraindications for breast implants
Not everyone who wants to have surgery should have it.  As you will choose Dr Milovic, he chooses his patients as well based on the consultations before surgery, and the information he has about each patient.   Dr Milovic has the right to refuse to operate on patients he considers to be unsuitable surgical candidates.
Some of the common contraindications for breast implant surgery include (not exhaustive list) women who:
are pregnant or breastfeeding
have existing malignant or pre-malignant cancer of the breast
have had radiation treatment to their breast
have an active infection anywhere in their body
have conditions which interfere with wound healing and blood clotting
have autoimmune diseases and other serious medical conditions
have a compromised immune system
have reduced blood supply to breast tissue
have saggy or ptotic breasts and require a breast lift together with implants
Alternatives to breast augmentation surgery
Breast augmentation surgery is elective, that is, you don't have to have it at all.  It's a choice and as such, you should think about it as carefully as you would any surgery.   Just because it's a common procedure these days, doesn't mean it doesn't carry risks and complications like any other surgery.
You can choose to do nothing, and accept your breasts as they are.  You can also wear a padded bra or use an external prosthesis (such as a bra filler).
It's unfortunate that there are some doctors who will operate on patients who are either deemed unsuitable by plastic surgeons.  That's why it's important to not do anything unless you are sure, and to do your homework about your surgeon's qualifications as well as the surgery itself.  You should have all your questions answered to your satisfaction.  If you are unsure, or if you feel pressured, you should reconsider having breast augmentation surgery.
REMOVAL & REPLACEMENT OF BREAST IMPLANTS – CASE EXAMPLE
Dr Milovic has performed corrective or revision surgery for breast augmentation patients who are either not happy with the final look of their breast enhancement or who have had complications. Complications can occur after any surgery, and do not necessarily reflect the skill of the surgeon.   If another surgeon has performed the original surgery, Dr Milovic will ask about the original surgery, so you will need to have as much information as you can.
Patients need to understand that it's often harder and more costly to revise breast augmentation than it is to perform the initial surgery.  Every surgeon has their own approach to corrective surgery, and there is substantial variance depending on the training, experience and judgment of the surgeon. This applies particularly to surgeons who are not trained in the specialty of plastic, reconstructive and cosmetic surgery in the way that Plastic surgeons, like Dr Milovic, are.
Who is performing your breast augmentation procedure?
Breast augmentation procedures are one of the most common procedures performed in Australia today.
Yet, breast augmentation, like all surgery, has risks and complications associated with it. Just because it's a popular cosmetic procedure nowadays, don't assume that it's a simple procedure with little or no aftercare, or that the surgery will be performed by a qualified and experienced plastic surgeon.
Read More