Can I claim a Medicare rebate for a Breast Reduction Procedure?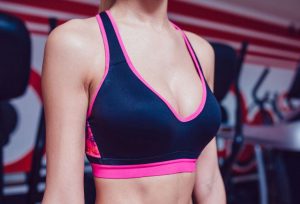 If you have large, heavy breasts which are causing you back, neck or shoulder pain, and/or emotional problems, you may be thinking about having breast reduction surgery.  Along with the pain, you might also be having issues with finding clothes which fit properly or look attractive because of your bigger breasts, and sticking to a good exercise regime might be difficult as well.
A common question we get in Dr Milovic's practice is whether you can claim Medicare for a breast reduction, and to what extent the private fees or costs are covered.
The answer:  it depends.
Not all breast reduction procedures are wholly for cosmetic reasons, and you may be eligible for Medicare item 45520.   This means that there will be primary medical or functional reason/s for having the procedure which include back pain, shoulder and neck pain.  You may be eligible for a rebate on the surgical and Anaesthetist fees under 45520, but that doesn't mean that you'll be covered for the entire amount of the medical fees if you are having the procedure in a private hospital.   Dr Milovic only performs breast reduction procedures in accredited private hospitals.
If you have private hospital cover, you should check with your health fund to see whether they will cover item 45520, provided that you are eligible to claim it in your circumstances.
To claim item 45520, like any other Medicare item code, you need to see your GP or other specialist first and ask for a referral to the plastic surgeon of your choice.
Specialist Plastic Surgeons, like Dr Milovic, are recognised as formally qualified Plastic Surgeons by the Commonwealth government ( and therefore, Medicare Australia) to determine a patient's eligibility for plastic surgery procedures, such as breast reduction.
How do I choose a surgeon for a breast reduction?
Make sure that they are a qualified Plastic Surgeon, with experience in performing this type of surgery. The letters "FRACS (Plast)" after a plastic surgeon's name signifies that they are a Specialist Plastic Surgeon and you should do your homework to check this before having a breast reduction procedure, and especially if you want to check your eligibility under the Medicare item number for this procedure, 45520.  If a surgeon is vague about their qualifications, it's highly unlikely that they are a Specialist (ie qualified) Plastic Surgeon, and you will need to do further research.
But you should also consider that not all Specialist Plastic Surgeons specialise in breast reduction surgery.  Some have interests in other areas, such as reconstructive surgery or other body areas.   Dr Milovic not only has an special interest in all breast surgeries, but also specialises in minimal scar breast reduction using advanced surgical techniques to ensure your results are also cosmetically acceptable.
Make sure your surgeon operates in an accredited facility
A Specialist Plastic Surgeon should only perform breast reduction procedures in an accredited hospital or facility.  This is for your safety, as well as meeting Medicare Australia's requirements to claim Medicare item 45520.   This also means that you will have a full surgical team looking after you and can act appropriately if there is a medical emergency.
Do I need to make an appointment to find out if I'm eligible for item 45520?
Yes.  In order to be considered eligible for item 45520, you will need to come into our clinic and have an in person consultation with Dr Milovic.    This cannot be don't over the phone or via email. Your costs will also be determined at your first consultation, once Dr Milovic decides what needs to be done and which technique he will need to use for your breast reduction.  Dr Milvoic's practice provides a highly personalised service, which also means that individual costs will be different in each case.
More Reading
Case example : before and after results
Vertical scar breast reduction performed by Dr Vlad Milovic, Plastic Surgeon.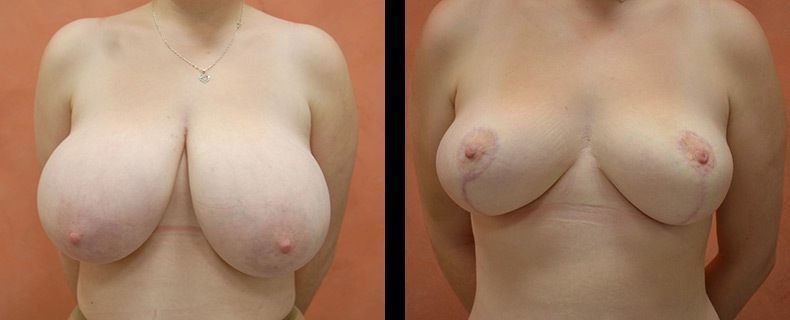 You can see more results in our office or in Dr Milovic's Female Gallery.
Contact us today
If you have any further questions about the breast reduction procedure, please do not hesitate to contact us via the form below, or call our Melbourne clinic (03 819 3786) or Canberra clinic (02 6260 4882).