How to Choose a Facelift Surgeon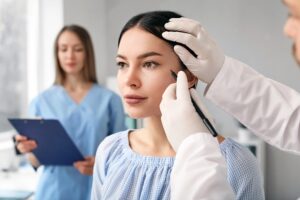 Trusting the appearance of your face to a plastic surgeon is a big decision that most patients do not make lightly. When women and men become ready to explore facelift surgery as a way to rejuvenate their appearance, the search for a skilled and experienced plastic surgeon can prove to be challenging. Our specialist plastic surgeon in Melbourne, Dr Vlad Milovic, knows first-hand how difficult this process can be and has some helpful tips to assist patients in their research:
Make sure the plastic surgeon is a Fellow of the Royal Australasian Society of Plastic Surgeons (FRACS) in the specialty of Plastic Surgery to ensure he or she has undergone extensive specialised training and achieved formal qualifications in plastic surgery.
Ask if the plastic surgeon is experienced in performing facelift surgery and what techniques they use. Dr Milovic has extensive experience in facelift surgery and uses the latest, most effective techniques to deliver natural-looking, long-lasting results. He performs deep plane facelifts and often combines 24K nanofat facial fat grafting to restore youthful volume. Additionally, he may also perform less-invasive facelift techniques (MACS lift and S-Lift). All procedures are highly customised to suit the patient's unique needs and goals.
Request to see before-and-after photos of the plastic surgeon's facelift patients. Seeing examples of the plastic surgeon's previous work is a great way to find out if he or she is the right fit for you. Ask to see pictures from patients who have had similar concerns to your own. Dr Milovic includes many facelift before-and-after photos in his website gallery.
Meet plastic surgeons in-person for facelift consultations. Meeting face-to-face with potential surgeons is an excellent way to get to know them and ask lots of questions. You should feel comfortable sharing your concerns and asking questions so you can make an informed decision about your care. The surgeon you choose should listen intently and inspire trust and confidence in their surgical abilities. Dr Milovic suggests bringing a list of questions with you to the consultation to make sure you don't miss out on anything important.
Check out online ratings and reviews. It's important to be curious about a plastic surgeon's reputation and the experiences their patients have had. Online ratings and reviews can provide a wealth of information about patient satisfaction and give you insight into how patients feel about the surgeon and practice as a whole.
If you are considering facelift surgery and want to find a plastic surgeon you can trust, we welcome you to schedule a consultation with Dr Milovic to learn about your options. Dr Milovic is renowned for his world-class care, excellent results, and warm bedside manner. He looks forward to helping you look and feel your very best!