How is a "purse string" gluteoplasty (buttocks lift) better than a Brazilian butt lift?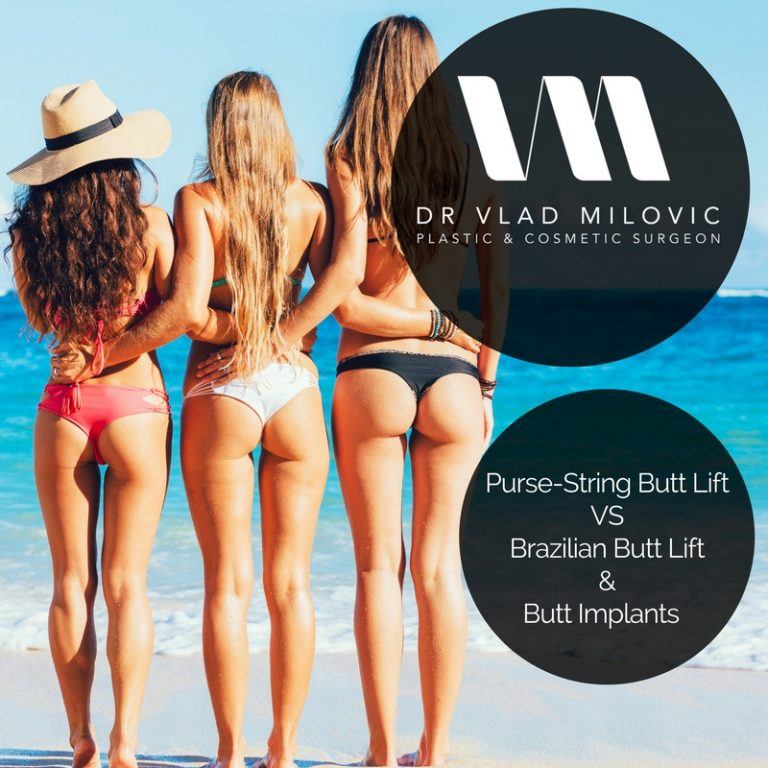 Mr Vlad Milovic, Plastic & Cosmetic Surgeon performs an advanced surgical technique to get you the buttocks you want.
When undergoing a Butt Lift with Mr Milovic,  he prefers to perform 'Purse-string Gluteoplasty' or 'Purse string Butt Lift' over the popular Brazilian butt lift.  And with good reasons.
With Dr Milovic's extensive training and experience and international reputation, he is pioneering the purse string gluteoplasty in Australia at his Melbourne and Canberra clinics, a technique which he has brought from Europe and uses your own tissue to lift and augment the buttocks, thereby creating a natural, proven – and importantly – longer lasting result.
The Purse-string Butt Lift is a actually a combination of two procedures in one. This allows correction of buttock atrophy and ptosis by lifting and repositioning the buttock soft tissue and re-establishing volume and projection. The central buttocks tissue is then shaped and molded using a Purse-string technique.
What are the issues with the more commonly known Butt Lift procedures?
A Brazilian Butt Lift takes fat from the patients stomach, hips and back and is then injected into the buttock region. This technique can create a greater risk for infection post procedure and transplanted fat cells are at a risk of fat cell death. This can create a dimpled almost cellulite appearance for the patient. due to the required liposuction the patient will endure more costs to their surgery fee and a slower & more painful recovery time.
A Butt Implant is another technique used by Plastic Surgeons to enhance the size and adjust the shape of the buttocks.  A common problem with a Butt Implant, is the complications that arise post procedure including infection, bleeding, opening of the incisions with implant exposed requiring removal. The implant is at a higher risk of moving from its placement and even turning post procedure. on going pain post procedure & there is also a risk of capsular contracture (which means removal will be required).
Why choose to have the Purse-string Butt Lift over the above procedures?
– A less invasive procedure when compared to the Brazilian Butt Lift, minimising patient downtime and healing process.
– Dr Milovic uses your own tissue for augmentation and lifting of the buttock area, minimising risks of post surgery complications
– Is a two in one technique that address sagging and flatness in the buttocks
– Creates an even looking, long term result without the concerns that fat grafts will fail (resulting in lumpiness and uneven contour).
Want to know more?
Call us today to schedule a Purse-string Butt Lift consultation or speak with our Patient Education Nurse, Stacey at our VIC rooms 03 9819 3786 and ACT rooms 02 6285 4266.