Melbourne Specialist Plastic Surgeon Discusses Breast Rejuvenation with Breast Lift Surgery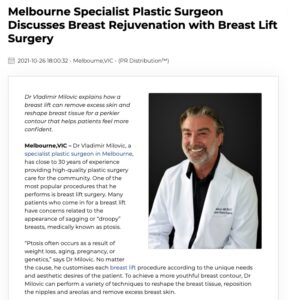 Dr Vladimir Milovic explains how a breast lift can remove excess skin and reshape breast tissue for a perkier contour that helps patients feel more confident.
Melbourne,VIC – Dr Vladimir Milovic, a specialist plastic surgeon in Melbourne, has close to 30 years of experience providing high-quality plastic surgery care for the community. One of the most popular procedures that he performs is breast lift surgery. Many patients who come in for a breast lift have concerns related to the appearance of sagging or "droopy" breasts, medically known as ptosis.
"Ptosis often occurs as a result of weight loss, aging, pregnancy, or genetics," says Dr Milovic. No matter the cause, he customises each breast lift procedure according to the unique needs and aesthetic desires of the patient. To achieve a more youthful breast contour, Dr Milovic can perform a variety of techniques to reshape the breast tissue, reposition the nipples and areolas and remove excess breast skin.
Dr. Milovic says it is important for women who are considering breast lift surgery to understand that this particular procedure is not designed to increase the size of the breasts or make them look fuller. "Patients who want to add breast volume in addition to addressing ptosis may be best suited for a breast augmentation combined with a breast lift procedure." By combining these two surgeries into one, many women can achieve the breast profile they have always wanted.
During the consultation process, Dr. Milovic notes that he closely listens to what the patient would like to achieve from surgery. "I will never recommend a breast lift to an individual who is not considered to be a good surgical candidate for treatment." From there, he can determine if a breast lift or a breast lift combined with breast augmentation is necessary to achieve optimal results. Dr Milovic can also provide patients with breast lift before-and-after photos showcasing what outcomes other patients have experienced with the procedure.
Breast lift surgery is typically performed under general anesthesia as a day procedure. In some cases, an overnight stay at a hospital may be required. Dr Milovic says he always performs breast lift surgery in a safe, accredited operating facility. After treatment, patients may experience some pain or discomfort for a few days during the healing process; however, Dr Milovic explains that these symptoms can often be easily managed with over-the-counter pain medications. Patients can usually start light exercises, like walking, within seven days after the procedure. "I typically tell patients that they can return to work within ten days after surgery unless their job entails heavy lifting. In that case, I will tell the patient that they should wait at least three to four weeks so that their body can properly heal."
Many patients who come to Dr Milovic's practice for a breast lift experience many aesthetic benefits, as well as a boost in self-confidence. "Breast lift results are designed to be long-lasting, but a patient's genetics, health, and the natural aging process can still affect the outcomes," says Dr Milovic. He usually tells patients that maintaining a stable weight and adopting a healthy lifestyle can prolong their breast lift results.
Dr Milovic is always excited to help enhance a patient's appearance so that they can be comfortable and confident in their own body. He highly encourages patients who are interested in breast lift surgery to schedule a consultation so that they can discuss their goals and obtain a clear idea of how the procedure may benefit their unique needs.
About Dr Vlad Milovic
Dr Vlad Milovic is a Specialist Plastic Surgeon who trained at the Royal Australasian College of Surgeons (RACS). He is a Fellow of the Royal Australasian Society of Plastic Surgeons (FRACS), which means that he went through at least 12 years of medical and surgical education and 5 years of specialist postgraduate training. Out of the nine surgical specialties that doctors can choose, Dr Milovic chose to pursue a specialty in Plastic, Reconstructive and Cosmetic Surgery. He worked with many talented plastic surgeons from around the world and even completed a four-year aesthetic surgery fellowship in Europe. Dr Milovic is well known for performing popular cosmetic procedures, such as rhinoplasty, breast augmentation, and tummy tuck surgery. He continues to be an active member of professional groups including the American Society of Plastic Surgeons (ASPS), the Australian Society of Aesthetic Plastic Surgeons (ASAPS), the International Confederation for Plastic, Reconstructive & Aesthetic Surgery (IPRAS) and the International Society of Aesthetic Plastic Surgeons (ISAPS). Dr Milovic is available for interview upon request.
To learn more about Dr Milovic, please visit drmilovic.com.au and facebook.com/DrVladMilovic.
Contact:
Dr Vladimir Milovic
Level 2, Suite 1
Epworth Hawthorn
50 Burwood Rd
Hawthorn VIC 3122
+ 61 3 9819 3786
Rosemont Media
(800) 491-8623
www.rosemontmedia.com